Our Full House Deep cleaning Methods ?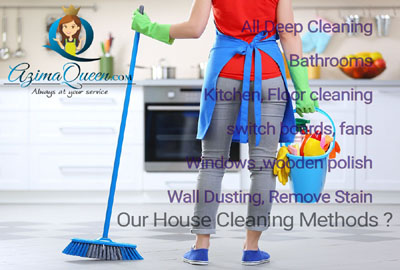 Some Methods of Full House Deep cleaning Services.
Professional Full House Deep Cleaning Services in Noida .
Dusting-
High end dusting, detailing, disinfection of furniture, window grills and panes, doors and door handle, tube lights, ceiling fans, other electrical fittings and fixtures.
Vacuum Dusting-
High end dusting of your home in all the non reachable areas.Sofa, carpets, dining chairs, cushions and other upholstery vacuum cleaning.
Deep Cleaning-
Deep cleaning of living areas, bedrooms, kitchen, bathrooms & balconies. Deep scrubbing, disinfection and descaling each and every corner of your house.
Exterior cleaning-
Cleaning of cabinets, wardrobes, drawers, almirahs, electrical and home appliances.
Floor Deep Cleaning- 
The floor cleaning process starts with floor cleaning, Sweeping, mopping and scrubbing to remove all the dirt from the floor.
Kitchen Deep Cleaning-
High end dusting of Fridge tops, counters, cupboards, and other non reachable areas.Thorough Scrubbing and disinfection of kitchen sink, cabinets, counter top, kitchen fittings & fixtures. Wiping and Scrubbing of kitchen Floor & Wall tiles. De-greasing of Stove, Gas Hobs/Burners & Chimney Hoods (Exterior).Exterior Cleaning of Kitchen Appliances and storage cabinets.
Bathroom Deep Cleaning-
High end dusting and cleaning of bathroom.Thorough cleaning of bathroom chrome fitting and fixtures and toilet cleaning.Thorough scrubbing and disinfection of toilet, bath tub and wash basin.Scrubbing of bathroom tiles and floor.Removal of cobwebs.Descaling bathroom fittings and shower cabin walls.
Benefits of House Cleaning-
Hiring a professional to clean your home make your life much easier and relieve you of daily chores. Moreover, you will not have to be constantly worried about 
cleaning your home during busy days.Once the cleaning responsibilities get delegated then there is no need to spend hours and hours on dusting, washing, and vacuuming. Most of the people don't think it is necessary to hire a professional but below we have listed down some of the reasons that will make you change your mind.
Keeps Dust Allergies Away-
Dust allergies are one of the biggest problems of every home. It causes itchy eyes and running nose. But when you hire a professional home cleaning services they use high-end products to eliminate dust from your home. Moreover, they use mechanized equipment for cleaning which completely and thoroughly cleans your house and makes sure that you are completely satisfied.
Professional Provide Deep Cleaning-
Through deep cleaning get rid of harmful bacteria from your house. They use the right tools to reach tough areas. Their supplies are designed in such a way that they disinfect and cleanse contaminants from your environment. This will let you breathe better and live in a dust-free environment. Moreover, they know which cleaning agents to use and in the end, leave your home sparkling clean.
Protect Your Family Members-
Young children are more prone to dust and infections and the best way to protect your kid is to keep the germs away. Professionals are skilled in properly cleaning, dusting and sanitizing the house.
Reduce Stress and Fatigue It-
Sometimes gets difficult to manage your work and home life. After the entire day of working you don't have much time and energy to clean your home.Overextending yourself can have a serious impact on your health. Professionals let you relax and take all the stress of cleaning on themselves.
Life Is Healthy-
Your premises get dirty and if this dirt is left just like that, bacteria and germs may breed in those areas. Even, if you do basic cleaning regularly, you may not 
eliminate bacteria completely. But, professional cleaners use high-quality professional cleaning agents and thoroughly sanitize and disinfect all areas eliminating bacteria completely. The presence of bacteria, dust, and others causes lots of allergies and diseases. Regular house cleaning lowers the sickness and creates a healthier life.
Saves Your money-
If you regularly clean your house and maintain all furniture well. The cost to deep clean it further reduces and its longevity increases. Regular cleaning also reduces the chance of damage and repair, saving you the cost of repair.
Properly organized-
If you deep clean your house regularly, the tendency to keep things here and there reduces. Regular cleaning helps to get rid of unwanted things and arrange all important things in place. Thus It keeps your home properly organized.
Risks-
Clean houses lowers the risk of accident. Especially for toddlers who are learning to walk and elderly.